Discover more from The Cook's Edit
I read the weekend newspapers so you don't have to. A digest of travel articles in the UK and Europe, restaurants reviews and recipes with a focus on the accessible and affordable.
I haven't cooked from this weekend's papers as I was preoccupied with what to make when my Australian cousins came to lunch and I haven't seen them for ten years. They have been travelling around the UK eating pub food and, after much indecision, I made Nigella Lawson's chicken in a pot with lemon and orzo so I could shove it in the oven and then just chat. For pudding, it was Esther Clarke's plum lemon ricotta cake from BBC Good Food, (but with flaked almonds on top). Her apricot version is on Instagram and apparently TikTok. I served it with Victoria plums cooked in Amaretto with crème fraîche. It was the first time I've made the cake and I now understand its popularity and would make it all year round with different fruits. No photo as I was entertaining.
Travel
UK 
Going from Liverpool to Belfast in Northern Ireland on the ferry in the Independent as well as travelling the Lake District car free with a a new bus scheme. I like the sound of this, not only for the environmental reasons and the mad traffic jams on the M6, but also the cost of fuel and car parks, unless you are off and out extra early and can park in a lay by or get the last space in a National Trust car park. As we live in London, my husband has taken to catching the train to Lancaster and hiring a car there with fellow friends in the mountaineering club but this sounds good.
Unknown UK towns Part 5 'where tourists hardly tread' in the Guardian
Europe
It's all about long train journeys in Europe this week. The Guardian tests out the French rail network, going on the Eurostar to Paris, west to Nantes, down the Atlantic coast to Bordeaux and seaside town Soulac-sur-Mer, across the south to Narbonne and Marseille, to Chaîne des Puys, and then back to Paris.
It also writes about long-distance, good-value rail trips from the UK to Europe, to Poland's Baltic coast,, Newcastle to Germany and to Tuscany and beyond by train. The one to Corfu via Padua costs £440 and assumes you leave London on a Friday afternoon and get to Corfu on Monday lunchtime, after a night on a train, a night in a hotel and a night on a ship. You'd need a lot of annual leave and a long holiday after all that lot, and I can't even contemplate doing it all in reverse on the way home.
The Independent is on five trains, six countries and 48 hours to reaching Romania by rail and says it's the 'perfect hassle-free, European adventure. In contrast, The Times says a new airport has opened up and you should go to see gloriously unspoilt regions, fascinating history and vampire myths in Transylvania.
I loved the article on autumn holidays in France in the Telegraph but not the idea of La Passerelle de Mazamet, a footbridge in the Tarn region 140m long and 70m above the ground.
Cycling, art, mines and vineyards in Belgium's Limburg province in the Guardian .
A two week itinerary around Sicily in the Telegraph and Menorca, which is 'apparently having a big moment' in the Times.
The 1,000 year old small town of Quedlinburg in the eastern German state of Saxony-Anhalt is the 'most fairy tale town in Europe' in the Telegraph.
Restaurants
In the FT, Tim Hayward was at the The Portrait, 'Richard Corrigan's new restaurant on top of the National Portrait Gallery in London with a stupendous view down towards the Houses of Parliament'. He says, it has some top-quality materials, highest-level craft skills and inspired creativity.
In the Guardian, Grace Dent was in Green Lanes, London N4, at Gökyüzü, a Turkish restaurant.  She thought 'even if it's not quite changing the face of Turkish cooking, it is preserving the face of how it has looked, and it has made people in north London happy for decades.'
In the Observer, Jay Rayner was at Masala Zone, a new Indian restaurant in the Criterion on Piccadilly Circus in London W1 and declared, 'the neo-Byzantine, gold-tiled glories have finally got the restaurant what both they and London deserve and 'what makes this whole venture so joyous, so profoundly cheering, is not just the great cooking, which is what I'd expect from this team, but the pricing.'
But then later in the comments, he says prices have gone up even though they knew he was doing the review.
In the Standard, Jimi Famurewa was at Swiss Butter in London WC1 and wrote
'the brand new, Middle East-honed steakhouse where the offering is stripped back to the point of asceticism and the result is something that feels, all at once, both powerfully boring and deeply, deeply weird.'
In the Telegraph, William Sitwell went to Fish Game in London, gave it two stars and didn't like it much.
Recipes
It's late summer and early autumn recipes in the papers but I am preparing for an Indian summer and holding onto summer clothes and sunglasses for as long as I can. Lots more plum recipes with boiled plums with plum jelly by Honey & Co recipe in the FT, Melek Erdal's figs (and plums) in pomegranate molasses and tahini nut crumble. The nut crumble sounds magnificent and is going on my to make list.
Nigel Slater's recipes for marinated mackerel, baked plums and brown butter demerara cakes in the Observer based on the recipe by Anna Higham, who is soon to open Quince Bakery and used to work at Flor Restaurant where I ate these cakes. I'm excited about this recipe and am going to try it tonight. You have to make the mixture hours or the night before and let it rest. AsNigel writes, 'you don't want ill-shaped or frothy cakes.' 
There was a Middle Eastern special in the Guardian and it was good to see Ottolenghi's Middle Eastern recipes for early autumn. Tahdig with golden raisins and orange blossom, rice and lamb kubbes with lemon yoghurt, feta and kaymak katmer with pistachios and lemon syrup. And then recipes by Sami Tamimi with broad bean dip with goat's cheese and preserved lemon salsa, braised eggs with pitta, tomatoes and za'atar, toasted orzo with prawns, ouzo and marinated feta, fennel, kohlrabi and coriander.
Meera Sodha does sabzi polo, a vegan herby rice with saffron and pistachios although I always wants to 'unveganise' them and just use butter.
Diana Henry also covers rice cooking and how to cook it perfectly with her late-summer rice dishes, chorizo, pepper and paprika rice, a tian of courgettes and rice and crab and corn risotto with crème fraîche and cayenne butter.
To finish with something completely different, 5 ways with oysters by Mark Hix in the Telegraph.  
Books
My copy of Bee Wilson's The Secret of Cooking arrived, and I love it. I've already cooked 'Richard's Ratatouille,' the chana dal and the bread salad with courgettes and grapes. I empathise with the feeling of having to get a family meal on the table every day, even when you're not feeling like cooking and you put fish fingers in the oven . It's a heartfelt and affectionate book, borne of experience with delicious recipes. I can see myself using it constantly, unlike other books which just stay on the shelf, once read. This is, I think, the ultimate compliment for a cook book and I predict it will win prizes.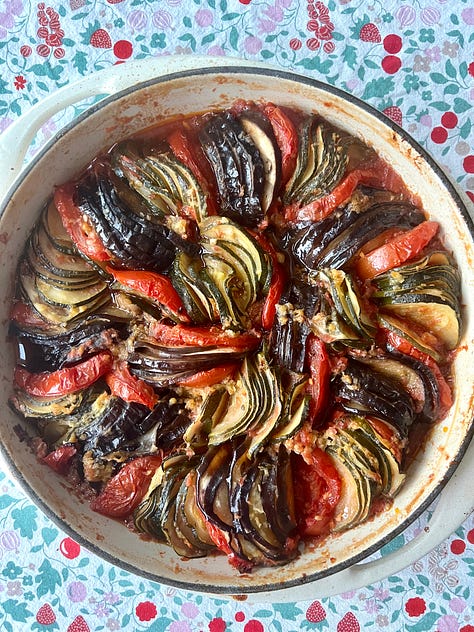 Recipes for a better menopause by Dr Federica Amati and Jane Baxter, with recipes with French and runner bean fattoush and spiced french beans in tomato sauce with flatbreads.
Imad's Syrian Kitchen by Imad Alarnab
with an edited extract on heritage tomato, roast fennel and dukkah salad, jaj bailfurn (grilled chicken thighs) with vegetables and a recipe for the spice mix, used on the chicken, shish taouk. 
Nadiya's Simple Spices by Nadiya Hussain
the Bake Off winner with an interview here and recipes in the Times including egg bhuna, saag aloo, chicken jalfrezi, made with tinned potatoes, a tin of tomato soup and brown sauce, tomato prawns, pulao and Bombay potatoes, dal made with tinned lentils, kulfi ice-cream bars, and stewed pineapple made with frozen pineapple.
And there's going to be a TV series too. 
 German Baking: Cakes, Tarts, Traybakes And Breads From The Black Forest And Beyond by Jurgen Krauss, the ex Bake-Off contestant with an interview here and recipes for soft pretzel, babka chocolate braid and marble cake.