Discover more from The Cook's Edit
I read the weekend newspapers so you don't have to. A digest of travel articles in the UK and Europe, restaurants reviews and recipes with a focus on the accessible and affordable.
Introduction
I am in Cornwall this week and the wi-fi is up the creek ….. literally. And with cooking in a strange kitchen, my admittedly limited patience has been severely tested. I did manage to make Georgina Hayden's runner beans with preserved lemon and feta tonight from last week' newsletter but with green beans. I bought crab yesterday from Pengelly's in Looe and made crab linguine with chilli and parsley, last night, pictured below.
We ate at North Street Kitchen, on the last day of its season, lobster fritters with rouille, fried monkfish with curry mayo and fried hake sandwich which had tartare sauce stirred through iceberg lettuce underneath the fish, an idea I am going to copy.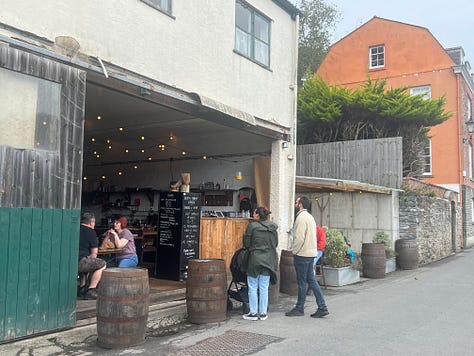 Recipes
Hannah Evans in the Times on solo dining with recipes for tahini noodles, baked salmon, butter bean puttanesca, cheesec-stuffed jacket potato with green sauce and spicy garlic pasta. Potatoes ham and goats cheese with figs is by Eleanor Steafel in the Telegraph which I will also make, once I can find some figs that are not from Peru. Looking at you, Waitrose.
17 chefs share the side dishes they can't do without in the FT, including butter from Debora Robertson, cream from Bee Wilson, gremolata (fresh parsley, garlic and the zest and juice of a lemon) from Eleanor Steafel. 
It's American food in the Guardian this week with Ottolenghi,s smashed potatoes with ranch dressing, sweet potato pie with whipped cream, and quick biscuits with sausage gravy, and Meera Sodha's vegan recipe for baked sweet potatoes with chipotle beans and guacamole
Molly Baz's recipe for chicken piccata with sweetcorn, and marinated zucchini and mozzarella. I liked the idea of the courgettes cooked two different ways, marinated and fried and then put together with the mozzarella. And for pudding, Ravneet Gill's chocolate mud pie 
Mark Hix in the Telegraph with game recipes including pheasant Kiev and roast grouse.
Nigel Slater's 10 best recipes over the past 30 years in the Observer including roast pumpkin with couscous and date syrup, smoked mackerel pie and lemon buttermilk ice-cream. It's interesting to look at the whole list to see if you agree. I've never made any of them but will have a go at the ice cream sometime.
Books
Vietnamese Made Easy by Thuy Diem Pham
In the Telegraph with how to cook quick but authentic Vietnamese dishes such as coconut crab udon soup, spicy steak with a pear, rocket and watercress salad and bacon and egg banh-mi style croissant.
Michel Roux at home by Michel Roux
with recipes for vegetable tart tatin, tagliolini with seafood, almond and raspberry frangipani tart in the Independent.
House & Garden A Year in the Kitchen by Blanche Vaughan
a comnpilation of recipes in the Sunday Times for mussels and miso, autumn slaw with pomegranate and pumpkin seeds by Sally Clarke and pork chops with apple ketchup by Merlin Labron-Johnson,
Restaurants
In the Guardian, Grace Dent was at Sophie's Steakhouse in Fulham, 'which provided all the oily, crunchy joy of eating at an American bar without having to shell out £450 to get to Florida and was 'good quality American food.'
In the Observer, Jay Rayner was at Tendril which he called a 'hotbed of vegetable love.'
In the Standard, Jimi Famurewa went to the Llama Inn in Shoreditch London EC2 and deemed 'this is not the first time the fresh, puckering vigour of Peruvian cuisine has been successfully modernised'
In the Telegraph, William Sitwell reviewed Àclèaf, Boringdon Hall, near the outer suburbs of Plymouth and thought it, 'the confident work of a chef who leaves the diner with the impression that while he obviously cooked the food, he didn't then spend an hour fiddling with it.'
In the Times, Tony Turnbull was also in Devon at Glebe House near Colyton the kind of meal that is arresting in its simplicity and confidence, rather than its look-at-me trickery. He also went to the Millbrook Inn at South Pool, near Kingsbridge which is is under relatively new ownership and said 'it's on song like never before.'
Travel
UK
A day out on the Sussex Art Shuttle, in the Guardian a hop-on, hop-off bus service that transports visitors between Eastbourne's Towner Gallery, the Seven Sisters Visitor Centre just outside Seaford, the picturesque villages of Alfriston and Litlington, Charleston (former home of artists Vanessa Bell and Duncan Grant), and the new Charleston gallery in Lewes.
Europe
A new guide to Milan in the FT, Lake Garda in the Sunday Times.
How to have breakfast in London, lunch in Paris and dinner in Barcelona, going by train also in the Sunday Times.