Discover more from The Cook's Edit
I read the weekend newspapers so you don't have to. A digest of travel articles in the UK and Europe, restaurants reviews and recipes with a focus on the accessible and affordable.
France, Brighton and chicken salads
August 14 2023
Introduction
Welcome to all my new subscribers. The purpose of this newsletter is to give you and me ideas from the weekend's newspapers on what to cook and where to go. It encourages me to go to new places and to cook at least one new recipe a week. If it inspires you to do that too, I will be delighted.
I'm just back from two weeks in France and will write more about that later in the week. Meanwhile, my lesson learned is to check your destination properly on Googlemaps so you don't end up in Lalinde, a hamlet with a farm, a field and a donkey in the opposite direction from the town of Lalinde on the banks of the Dordogne on market day (pictured below). For my husband, his lesson learned was to always take a photo of the street sign where you've parked the hire car and its number plate so you don't spend forty minutes trying to find it. One grey Renault Mégane looks pretty much like another. Anyway, one all.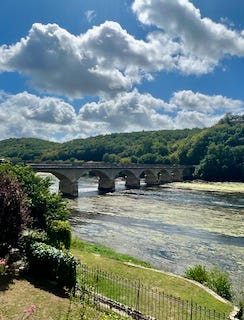 Travel
UK
I love Brighton, especially as I lived there while at Sussex University and enjoyed the Independent's article on how to spend a day in Kemptown, which they deem 'Brighton's cool and quirky neighbourhood.' Now I want to go to Sea Lanes, a new beachfront area with a 50m-long, six-lane pool (open-air but heated), and Sussex Gardens which opens on Sundays and has sculpture exhibitions and a cafe with cakes such as quince bakewell or roasted peach and fennel cream sponge. One of my favourite places, Charleston House and garden in East Sussex is in the Guardian.
There are ten of Britain's best summer walks with pub gardens in the Telegraph and dog walks with extraordinary views in the Sunday Times which all seem a bit random and may just be affiliated links for hotels nearby.
The Independent also says that Leith in Edinburgh has reinvented itself as a 'music and countercultural hub' and is becoming more popular now you can get the tram there. The Times recommends Loch Linnhe and Lismore.
Finally, the Telegraph has made a summer guide to the UK, an amalgamation of all its articles on walks, days out, beaches, campsites, hotels and so on if you are looking for inspiration.
Europe
The Guardian majored on France this week starting with an article when it gets its readers to write the editorial with their favourite spots in France, from Normandy to the Dordogne. Some of the comments are interesting.
There's a lovely article on the Var in Provence, the region from Cannes to Marseille round the coast and inland which just makes me want to plan another holiday straightaway as I love it there. Collobrières for the chestnut festival as well as a woodland stay south of Calais. There's also an e-bike trip round Normandy 'with Camembert, calvados and castles' in the Times.
Europe's best affordable hotels from only £25 in the Sunday Times from ten hotel brands and they say 'room service delivered by robots, cinema rooms and designer co-working spaces are all increasingly frequent features. They also mention Mama Shelter in Dijon in another article.
How the chef Ben Tish ate his way round Mount Etna in Sicily in the FT
The Telegraph has written about the coastlines around the Baltic, Denmark, Poland, Sweden and Germany, thinking after all the extreme summer heat, people might like to venture north instead of south for their holidays.
Lots of useful links on visiting Verona in Italy in the Guardian including the beautiful Renaissance walled garden, Giardino Giusti, a guide to Jerez in Spain in the Sunday Times and a city guide to Limerick in the Independent.
Restaurants
In the Guardian, Grace Dent was at Malverleys, the restaurant in the grounds of the house near Newbury in Berkshire owned by the Van Opel family. She called it 'a quintessentially English, picture-book, farm-to-plate experience.'
I've visited the garden twice, on a tour led by head gardener Mat Reese when it is opened via the National Garden Scheme and it is just stunning. It's open again on 9 September. Who else has an Anthony Gormley sculpture on the lawn? Answer is Petersham House near Richmond in Surrey which is open for charity on the 27 August and on the 24 September. I'll be at both places.
In the Observer, Jay Rayner went to Lisbon tapas in Wrexham and felt there was 'the sense of a place that is genuinely pleased to see you, and wants you to have a nice time.'
In the Standard, David Ellis went to Origin in London ECI and thought 'the new British nose-to-tail opening offers well-sourced, simple ingredients served beautifully.' 
In the Telegraph, William Sitwell was in Saltash in Cornwall at Crocadon and opined that it is 'one of the most exciting developments on the food scene with a collection of magnificent, original and quite breathtaking food.' 
In the Times, Giles Coren was on his holidays again in Pembrokeshire at the Black Pool Mill and Hat and Barrel restaurant.
Recipes
It's time for chicken with Diana Henry in the Telegraph with some warm and cold salads, chicken, avocado and radish salad with green goddess dressing, apricot harissa chicken salad with freekeh and ginger-maple chicken, nectarine and pecan salad
In the Sunday Times, Clodagh McKenna has quick chicken dinners which can be ready in 30 minutes, summer herb roasted chicken with rocket and almond pistou, chicken parmigiana, and olivey lemony chicken bake with crispy roasties. 
In the Times, there's an interview with Peter Creed and Tom Noest who have just opened their fourth pub in the Cotswolds, the Sherborne Arms in Northleach, and some of their recipes including roasted cod, bacon and braised peas, lamb chops with anchovies and tomatoes and rarebit and soldiers. There's also their devilled lamb's kidneys on toast which I have often ordered at the Bell at Langford.
Mark Hix is on the barbecue in the Telegraph with recipes for piri piri leg of lamb with broad bean relish, escalivada (grilled vegetables) with mojo verde, ( a coriander and cumin based sauce), crispy crushed new potatoes and mackerel with green tomato relish. 
Ottolenghi's granita recipes in the Guardian all sound so good. I made the poached peaches with a rosé wine granita but the granita hadn't frozen last night so I'll add a picture later as even I can hardly eat it for breakfast. There's also chocolate granita with vanilla creme fraîche and chocolate curls, and cantaloupe ice with lime and tequila.
I also made Rosie Birkett's recipes for red pepper and baked feta salad with walnuts and spinach and potato frittata, pictured above which went together well for Sunday supper. Instead of granita, we had raspberries and cream for pudding which would be my desert island dish, (I nearly typed dessert island), so not a hardship.
Also in the Guardian, Honey and Co spicy fish balls with pepper chilli sauce which they say are hot but not too hot and Benjamina Ebuehi's recipe for raspberry, limoncello and white chocolate Swiss roll in the Guardian with the hint that if you add a spoonful of oil to the batter, it stops it cracking.
Ravinder Bhogal does steamed artichokes with saffron aioli in the FT and Nigel Slater in the Observer has cherry and almond batter pudding and honey-roasted courgettes with ricotta.
Books
Jeremy Pang's School Of Wok: Simple Family Feasts
with an interview in the Independent and recipes for coffee and coconut flan, curry sauce and rice and lemongrass chicken.